Books by Shauna Tominey
Ready to learn more?
Creating Compassionate Kids
By Shauna Tominey
If you had to choose one word to describe the world you want children to grow up in, what would it be? Safe? Understanding? Resilient? Compassionate? As parents and caregivers of young children, we know what we want for our children, but not always how to get there. Many children today are stressed by academic demands, anxious about relationships at school, confused by messages they hear in the media, and overwhelmed by challenges at home. Young children look to the adults in their lives for everything. Sometimes we're prepared... sometimes we're not.
In this book, Shauna Tominey guides parents and caregivers through how to have conversations with young children about a range of topics-from what makes us who we are (e.g., race, gender) to tackling challenges (e.g., peer pressure, divorce, stress) to showing compassion (e.g., making friends, recognizing privilege, being a helper). Talking through these topics in an age-appropriate manner—rather than telling children they are too young to understand—helps children recognize how they feel and how they fit in with the world around them. This books provides sample conversations, discussion prompts, storybook recommendations, and family activities. Dr. Tominey's research-based strategies and practical advice creates dialogues that teach self-esteem, resilience, and empathy: the building blocks for a more compassionate world.
Release date: January 2019.
Order: W. W. Norton (20% off + free shipping) Amazon
Advanced reviews for Creating Compassionate Kids
"Creating Compassionate Kids is a must-read book for anyone working with or raising young people. Infusing research and examples from her personal and professional life as a parent, researcher, and parent educator, Dr. Tominey helps us have vulnerable, courageous, and loving conversations that foster compassion in adults and young people alike. Dr. Tominey's writing is approachable and informative, and she equips her reader with actionable and developmentally-appropriate tools for creating compassionate kids."
— Dena N. Simmons, EdD, CHES
Assistant Director, Yale Center for Emotional Intelligence
Associate Research Scientist, Yale Child Study Center
"With deep sensitivity and humanity, Dr. Tominey illuminates how our everyday conversations shape who we are and what we become. Tominey captures the heart of what kids are implicitly asking and seeking. With impeccable perception and rare insight, she explains how to talk to children about real-world topics, while also providing essential messages to help them develop into confident, caring, and compassionate people. Grounded in emotion science that's conveyed with the same warmth and wisdom she promotes, Creating Compassionate Kids is a beacon for 21st century families."
— Kathryn Lee
Director of RULER for Families
Yale Center for Emotional Intelligence
"In Creating Compassionate Kids, Dr. Tominey communicates the power of adult-child conversation through compelling and descriptive examples, and an engaging narrative that embeds key insights from developmental science. Family activities, book recommendations, and discussion questions provide wonderful opportunities to extend and apply learning. You'll finish the book feeling inspired and empowered to turn everyday moments into opportunities to support the next generation of compassionate children."
— Elisabeth O'Bryon, PhD
Co-founder of Family Engagement Lab
"Developing compassion begins with understanding, and for young children, understanding emerges in conversation. Written with wisdom and sensitivity, Creating Compassionate Kids guides adults into these conversations and their significance to young children. Through conversational examples that are insightfully discussed, Shauna Tominey provides thought-provoking reflections on the growth of compassion and its foundations in developing self-awareness, resilience, and close relationships in childhood. A valuable resource for adults who care for kids."

— Ross A. Thompson, PhD
Distinguished Professor, Department of Psychology
University of California Davis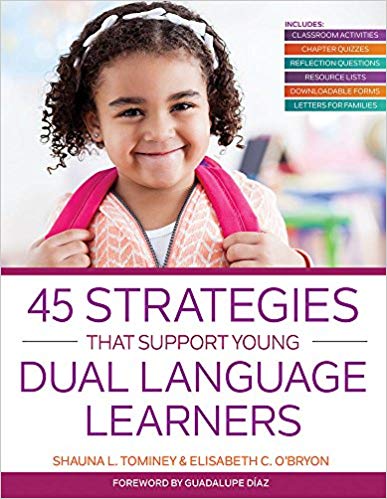 45 Strategies that Support Young Dual Language Learners
By Shauna Tominey & Elisabeth O'Bryon
The number of dual language learners in early childhood classrooms is expanding every year—and teachers often feel underprepared to bridge language barriers and effectively meet these students' learning needs. Help is here in this book—a toolbox of today's best strategies for supporting children and families from diverse backgrounds and ensuring the academic and social success of young dual language learners.

Early childhood educators will get an invaluable collection of 45 practical, developmentally appropriate strategies for teaching dual language learners (both Spanish speakers and children who speak other languages). Real-world guidance helps teachers apply each strategy in their own classrooms, and the activities, reflection questions, and resources in Spanish will support educators in strengthening their current teaching practices. A much-needed resource for in-service professional development and preservice courses, this timely book will help educators foster the success of inclusive early childhood classrooms and prevent achievement gaps for dual language learners.
Order: Brookes Publishing Amazon
Stop, Think, Act: Integrating Self-Regulation in the Early Childhood Classroom
By Megan McClelland and Shauna Tominey
Stop, Think, Act: Integrating Self-regulation in the Early Childhood Classroom offers early childhood teachers the latest research and a wide variety of hands-on activities to help children learn and practice self-regulation techniques. Self-regulation in early childhood leads to strong academic performance, helps students form healthy friendships, and gives them the social and emotional resources they need to face high-stress situations throughout life.
The book takes you through everything you need to know about using self-regulation principles during circle time, in literacy and math instruction, and during gross motor and outdoor play. Each chapter includes a solid research base as well as practical, developmentally-appropriate games, songs, and strategies that you can easily incorporate in your own classroom. With Stop, Think, Act, you'll be prepared to integrate self-regulation into every aspect of the school day.